Here at #BoardGameHour we are supporting the WWF's #EarthHour on Saturday, March 25th at 8;30pm (GMT)

. It is an annual global celebration where people switch off their lights for one hour to show they care about the future of our planet.
What.
What better

opportunity

to turn off the power and play board games by candle light. Here are some suggestions of what you could play during #EarthHour: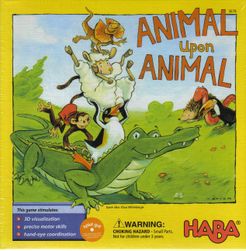 Animal upon Animal is a fun little dexterity game.

Each turn a player rolls the die and either places one or two animals on to the stack of animals, passes one of his or her animals to another player for them to place, or places an animal on the table, extending the base for other players to build upon. Of course, if any pieces fall off whilst you are building, you get up to two of them back. The first player to have used all of their animals wins.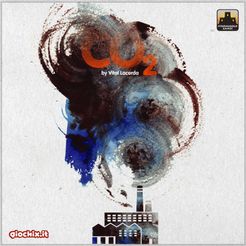 CO₂
is a much heaver game which has a strong
environmental
message.
In the game
CO₂
, each player is the CEO of an energy company responding to government requests for new, green power plants. The goal is to stop the increase of pollution, while meeting the rising demand for sustainable energy — and of course profiting from doing so. You will need enough expertise, money, and resources to build these clean power plants. Energy summits will promote global awareness, and allow companies to share a little of their expertise, while learning still more from others.
In
CO₂
, each region starts with a certain number of Carbon Emissions Permits (CEPs) at its disposal. These CEPs are granted by the United Nations, and they must be spent whenever the region needs to install the energy infrastructure for a project, or to construct a fossil fuel power plant. CEPs can be bought and sold on a market, and their price fluctuates throughout the game. You will want to try to maintain control over the CEPs.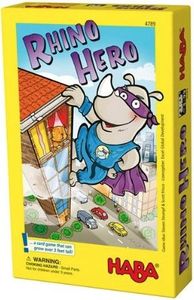 Money, CEPs, Green Power Plants that you've built, UN Goals you've completed, Company Goals you've met, and Expertise you've gained all give you Victory Points (VPs), which represent your Company's reputation – and having the best reputation is the goal of the game ... in addition to saving the planet, of course.
Rhino Hero is another dexterity game that the whole family can enjoy.

Players each start the game with five roof cards, and they take turns adding walls and roofs to a single building. On a turn, you first place walls on the highest floor, then you choose a roof card in your hand and place it on the wall. Each roof card bears markings that indicate where the next player must place walls on the card. In addition, some roof cards force a player to perform special actions, such as placing a second roof, changing the direction of play, or moving Super Rhino to a new location on the tower. Keep your hands steady!
The first player to build all of his roof cards wins the game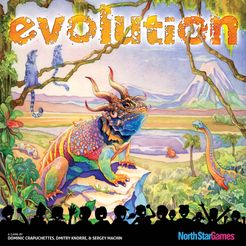 Evolution is one of my favorite games of all time.

In

Evolution

, players adapt their species in a dynamic ecosystem where food is scarce and predators lurk. Traits like Hard Shell and Horns will protect your species from Carnivores, while a Long Neck will help them get food that others cannot reach. With over 4,000 ways to evolve your species, every game becomes a different adventure.
Evolution
packs a surprising amount of variety for a game with simple rules. The variety comes from the synergies between the trait cards and from the different personalities at the table. Some players thrive on creating Carnivores to wreak havoc on their fellow players. Others prefer to stay protected and mind their own business. Evolution encourages both play styles by giving each of them multiple paths to victory. And it is the mix of play styles at the table that ultimately determines the ecosystem in which the players are adapting. So gather your friends and see who can best adapt to the changing world around them.
Important but fun
This event shows that we can all make a difference but have a good time while doing it! All of these games are top notch, you might not like all of them but you will like one of them so why not join in with #EarthHour by making it a #BoardGameHour too! Check it out here: https://www.wwf.org.uk/earthhour/what-is-earth-hour